Transportation – Safety for local and long-distance public transport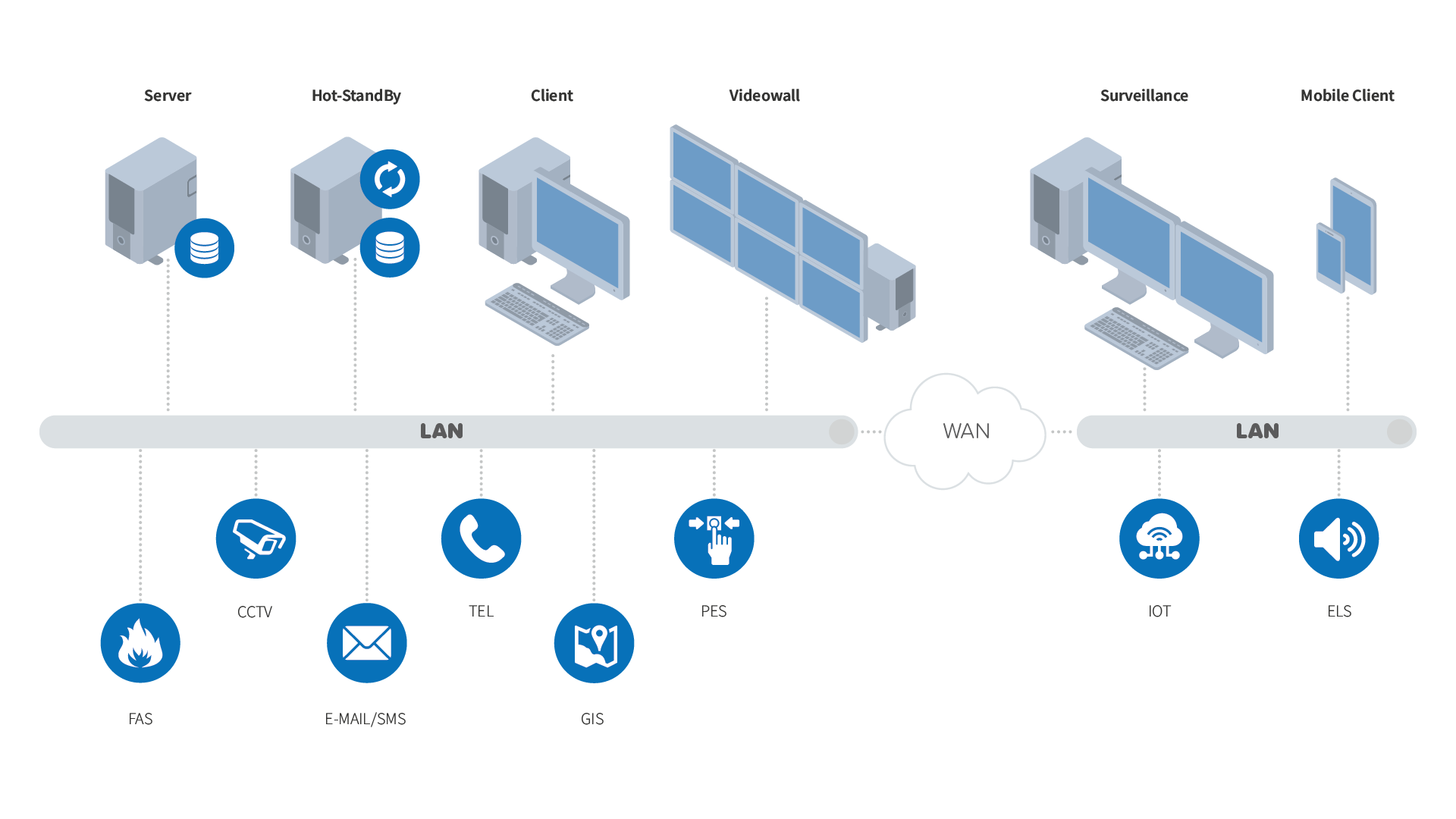 Integration of all technical systems into one easy-to-use platform
Via the open integration platform WinGuard, all technical systems used in transportation can be controlled in a unified way. The entire network structure as well as the location and rail section designations are mapped in WinGuard via datapoints, if necessary also nationwide. Scalability, redundancy, and high availability as well as the flexible extensibility with regard to adapters and function modules are the main advantages of using WinGuard in public or private transportation.
Security has highest priority
Emergency calls of passengers or personnel are displayed with highest priority in the WinGuard user interface and localized including detailed graphics without delay. If required, a camera installed in the concerned area can be displayed immediately. Thus, the control center or local personnel can react promptly: The employee at the respective workstation is guided through the correct and secure event processing with dynamic workflows.
At the same time, cross-system actions are triggered automatically in the background: Alarms, e.g. via telephone, SMS or e-mail, can be called up both manually from the workflow texts as well as run automatically in the background.
Smooth operation, fast troubleshooting
Highest priority is assigned to reliability. In case of a supra-regional or nationwide infrastructure, the regional WinGuard workstations are connected to redundant servers. Within the single objects (stations, office buildings, warehouses, tunnels), local servers are installed if required which report to the main server.
The main focus is on smooth operation with fast troubleshooting. By means of an adapter, tickets can be created automatically in the internal fault system. The fault clearance service is informed by e-mail, SMS or telephone. On site, the technician can get an overview of the system status using a web client.
The fault management is unified via WinGuard: This gene¬rates synergies not only in the training of personnel and their deployment, but also concerning maintenance. Change requests only have to be entered into one platform and not into countless heterogeneous systems as before.
Referenzbeispiel
ÖBB
Österreich
We were searching for a vendor neutral system, suitable for a nationwide application. Fast reaction times with regard to modification requests as well as the provision of new adapters were important as well. Not all management system manufacturers offer these features as a matter of course – Advancis makes the difference! Scalability, redundancy and high availability are indispensable for us. With the location and adapter server, an easy connection of distributed systems is possible due to the comporehensive adapter portfolio provided by Advancis.