WinGuard Professional – for distributed Systems
Highly flexible Solution for larger Installations
Flexible solution for comprehensive installations with up to 15 clients, 25,000 datapoint units and 15 interfaces. Development of new interfaces is possible anytime.
The system offers multiple redundancy levels to always ensure the high availability of the security and building management platform. Thanks to Hot Standby, the system functionality is kept even if a central component fails. This is particularly important for critical environments, e.g. in the finance sector, in data centers, correctional facilities or any other highly sensitive areas
Distributed systems in large-sized installations
Up to 25,000 DPU, 15 clients and 15 interfaces
Multiple redundancy and high availability
Automatic takeover of detector positions from existing CAD plans
Application Example
The module "Control Operations" enables planning and execution of datapoint control operations (e.g. activations/deactivations). The particular target state can be monitored in real-time.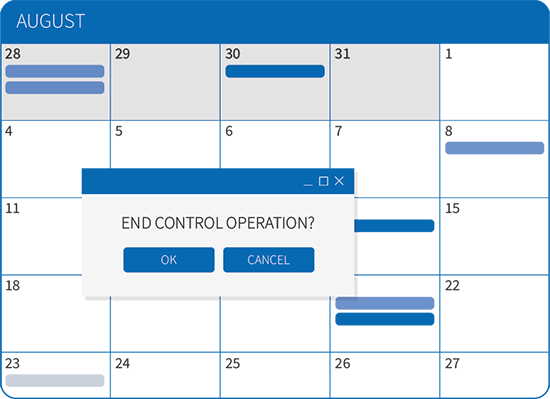 Project Example
Comprehensive projects often require numerous resources to realise control operations at technical systems, e.g. to arm/disarm fire detectors during maintenance works. This might lead to the fact that the control centre personnel becomes directly involved in maintenance works and therefore cannot focus on important alarms anymore.
Using the module "Control Operations", persons in charge can register planned control operations via a web form so that these just have to be approved by the control centre. The process is digitised and during the defined time period, the target state of the detectors is monitored to avoid any unnoticed changes made by third parties directly at the systems. The approval as well as the current detector state can be viewed by the applicant. Due to the digitised processes, the module reduces false alarms and helps to detect hazardous situations.
In many cases, fire alarm technology is one of the most important aspects in large installations. Using the WinGuard CAD Support plus, all detector positions and attributes can be automatically taken over into the floor plans. In case of a fire alarm, the specific plan including the alarm-giving detector will be immediately displayed in the user interface.
Virtual Showroom
Visit our virtual WinGuard showroom to see how event processing and control of connected systems works with WinGuard. The showroom is always open for an online visit.
Request your individual Product Demo now