Solution Partners – holistic Solutions for increased Security
Together with our Solution Partners and their products, comprehensive project requirements are realized, resulting in an overall solution.
Advancis & Hexagon
Integrated Incident Management and PSIM Solution
In the past years, the demand for integrated solutions with regard to emergency control and security management has strongly increased. This applies in particular to industrial control centers that are responsible for a quick and efficient intervention in hazardous situations but also for daily tasks such as door and gate controls or disarming of fire detectors. This includes as e.g. resource proposals, alarming and assignment of emergency personnel, but in addition also visualization and control of all security-relevant devices such as e.g. fire alarm and access control systems or video surveillance.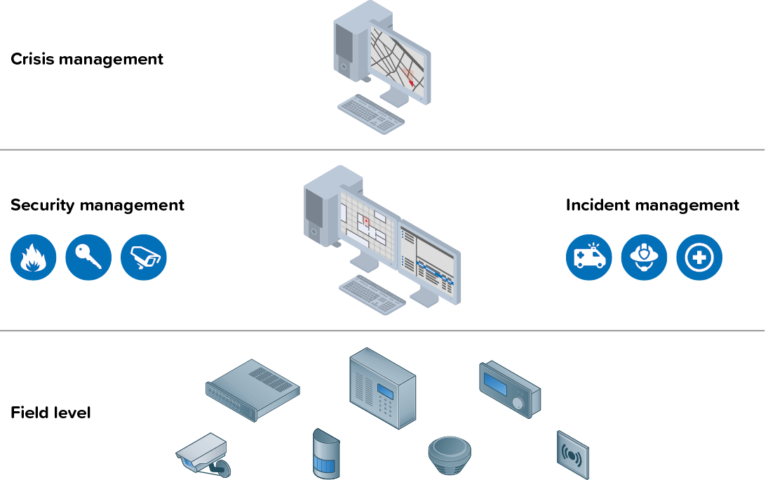 To make the complete spectrum of control center tasks operable in a continuous, comfortable, quick and secure way, Advancis and Hexagon Safety & Infrastructure have created an optimal overall solution by the close linkage of the PSIM system WinGuard with the operational command system HxGN OnCall Dispatch. This combined, independent software platform enables both day-to-day control processes and emergency management to be carried out optimally. When designing the overall solution, in addition to intuitive operating processes for users, particular attention was paid to an effort-optimized data supply in order to keep operating costs low and the quality of security processes permanently high.
For more information, read our whitepaper or visit the Hexagon website.
Still unsure? We are here for you!
Ask our experts now or call us.
If you have any technical problems, our support team will be happy to help you.