How does AIM work?
The Advanced Identity Manager offers an optimal solution for the integration of multiple access, identity and
biometrics systems in one platform.
AIM's main function is to ensure that the logical and physical access privileges associated with an employee's
role are always synchronized
Synchronization of all systems
Synchronization of identities and credentials of the  connected access control systems.
Leading data source
User identities and groups are propagated from a leading data source and then distributed to all systems. Leading data sources can be the Active Directory, an access control system, AIM self-registration, existing HR applications or in-house solutions currently in place. 
AIM Mobile App
With the AIM Mobile App, mobile credentials from different manufacturers can be used and managed in a unified way. This eliminates the need to carry an access card or badge.
Flexible integration
AIM supports open protocols such as PLAI, a RESTful API as well as proprietary interfaces for the connection of access control systems, biometry and other identity and visitor management systems from different manufacturers.
How does AIM work?
Identities (cardholders/users) and group rights are taken from a leading data source – in this example from Active Directory.
Credentials (card information and formats) are synchronized between all access control systems.
Your advantages with AIM
Unify your access control
Preservation of stock systems
AIM makes it possible to continue using the existing access control infrastructure without having to forego the benefits of standardized processes and centralized data maintenance.
Increased security
The AIM web user interface provides a unified over-view of the synchronization status of all connected systems.
This facilitates the removal and offboarding of former employees ensuring all access cards and clearances can be updated, disabled or removed in a centralized way which minimizes the chance of unauthorized access to buildings and critical assets.
In addition, it is possible to filter centrally according to authorization groups in order to e.g. proactively check access rights for highly secured areas or to block the corresponding card directly.
Simple administration
AIM synchronizes all user and group data as well as card formats and card IDs of the connected access control systems. This significantly eases the management effort of user and group data, as adjustments only have to be made in one system and no longer in many different ones.

Single badge usage
By synchronizing the card information and all card formats, access or authorization can be enabled with just one card for all connected systems (provided the cards used support this).
Included in every license
Web user interface
System environment monitoring
Cardholder management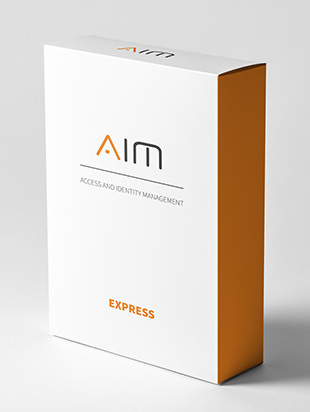 Express
Up to 3 interfaces and max. 3,000 users
Basic
Up to 5 interfaces and max. 5,000 users
Professional
Up to 10 interfaces and max. 25,000 users
Enterprise
Unlimited number of interfaces and users
Request online product demo now