Industry – Protection of extensive Industrial Premises
Various Interfaces
With a large interface portfolio, WinGuard establishes the connection to fire alarm systems and further systems of security, building automation and communication technology. Automatic import functions allow a fast setup and ensure the proper connection of all detectors.
Easy Configuration
With the WinGuard Graphic Editor, CAD graphics can be easily integrated, their layers controlled and contained detector positions evaluated. Detectors that cannot be taken over from CAD graphics can be placed on the floor plans by simple drag & drop. The correct display can be checked directly using the real-time test function.
Intuitive Control
The graphic user interface enables intuitive control of the fire alarm technology. Individual detectors and detector groups can be controlled directly and disarmed as well as re-armed automatically.
The Solution: WinGuard
Exactly for these requirements, WinGuard offers a central work and operation interface. The security and building management platform is not only available for processing all events and information, but also controls any connected systems in a centralized way. With redundancy concepts, WinGuard prevents system failures and loss of information.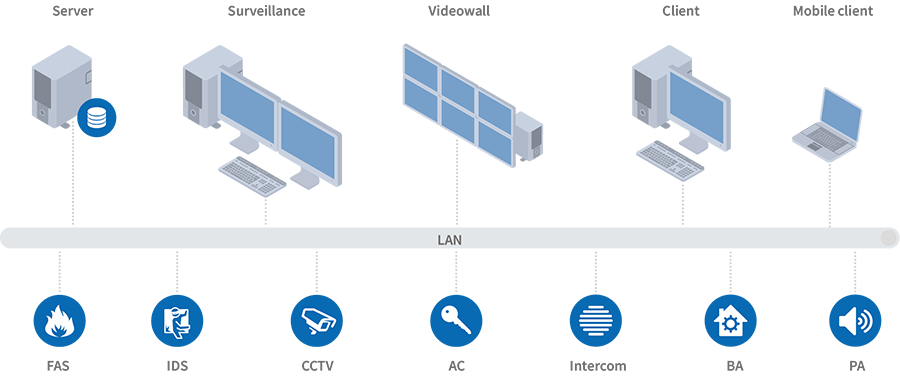 Comprehensive Security Management with WinGuard
Supported Alert
In case of a fire alarm, WinGuard reacts on different levels. On the user interface, the triggering detector is displayed on a floor plan. Dynamic action texts guide the operator through the correct steps of event processing, while in the background cross-system measures are automatically triggered. Alarms, e.g. via telephone, SMS, fax or e-mail, can be both called up manually from the action texts or be executed automatically in the background.
Reports and Evaluations
Both situation-related as well as defined regular reports allow the evaluation of alarms, disarmings, malfunctions and revisions. In particular the latter can be used to control service providers and as evidence in case of damage.
Protected Documentation
All steps of event processing, executed manually by the user or automatically controlled by the system, are stored in a log. Each event can thus be opened later in a change-protected way and the actions taken can be traced.
Connection of Incident Management Systems
WinGuard offers open communication interfaces in all directions. Among other things, WinGuard enables the connection of superordinate incident management systems for deployment and resource planning via a documented interface.
Reference Example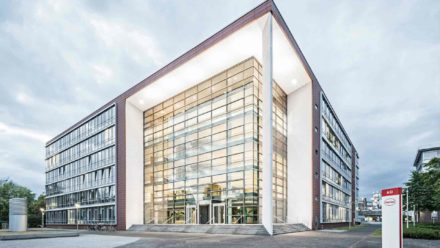 Henkel
Deutschland
"It was our intention to continue working with different manufacturers of technical security and building management system in order to always remain independent. Therefore, WinGuard as a vendor-neutral Physical Security Information Management System offered the optimal solution, as it integrates the comprehensive infrastructure of our location. In addition, the available communication and incident management systems are linked as well, which is important for both a quick event processing in case of emergency as well as for daily operation of an industrial plant. The high availability of WinGuard as well as its comprehensive reporting functions are further decisive advantages."