WinGuard – the Open Integration Platform
Which tasks has an Open Integration Platform?
An Open Integration Platform is a software that integrates several unconnected security systems, controlling them via a unified user adapter. This enables the user to detect occuring situations and to resolve them in an optimal way. Such a solution is often also called a PSIM or security and building management system.
WinGuard is an Open Integration Platform reaching far beyond the common scope, offering the possibility for cross-domain integration of the complete security, building and communication technology. In addition, the connection to further systems such as e.g. incident management or ticketing systems can be realized seamlessly.
WinGuard collects all incidents from different security and information systems. The intelligent event visualization enables the user to easily identify situations. Dynamic workflows and SOPs as well as automatic actions support the user in the control center.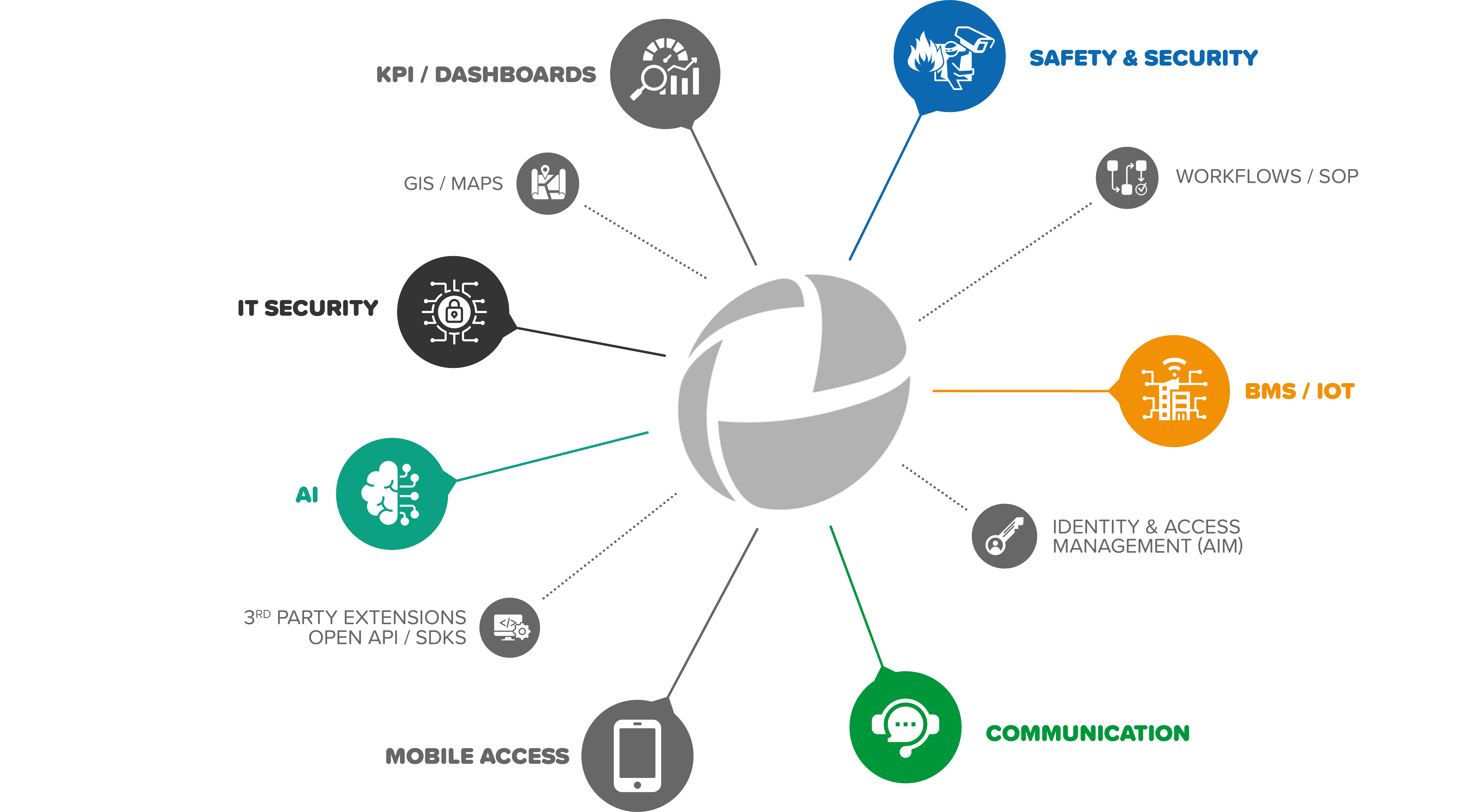 Organize your Security
Currently, more than 500 adapter drivers are available to a wide variety of security, building and communication technology systems. Furthermore, the development of new adapters is also possible. Thus, WinGuard is the ideal solution for most diverse project requirements.
Open Platform
With more than 2200 realized installations in different application areas, WinGuard is one of the internationally market-leading Physical Security Information Management (PSIM) systems. Due to the vendor-neutral and open architecture of the software platform, the entire technical infrastructure of a building can be visualized and controlled. This considerably simplifies the complex workflows in a control center.
Guided Operation
The user works with an intuitive and customizable user adapter providing him with content such as maps and camera images depending on the situation. Guided process instructions support the user in event processing and lead him through the necessary actions to resolve the situation in a quick and secure way.
Reports & Evaluation
All events like messages and user entries are logged in WinGuard. Based on this data, reports and evaluations can be created which provide a quick overview of relevant key figures of the connected systems and the control center. For external use, the information can be exported to common formats or provided in real-time.
Free Scalability
The platform is scalable from a single workstation system to internationally networked control centers and can be extended anytime with additional servers and workstations, function modules and adapters.
Security & Stability
The WinGuard location and redundancy concept allows the realization of complex system architectures and fallback scenarios. The system availability is constantly ensured via hot standby. The distributed data storage enables fluent working even at locations which are connected via a low bandwidth. The network connections are always encrypted by WinGuard according to current standards (AES 256).
Extensibility
In addition to special solutions for different industries, open adapters and the close collaboration with other companies enable the system to be extended and additional use cases to be covered. Examples are ticketing systems, incident management systems and various evaluation tools (KPIs, health monitoring, etc.).
Cross-site installations, e.g. the globally distributed stores of a retail chain, benefit from automatic actions executed via WinGuard at each connected site. The connection of further process supporting software, e.g. mission control, ticketing or further data analysis systems, can be easily realized.
In addition, the new AOP (Advancis Open Platform) substructure as a generic concept enables the user to extend the software itself as desired with functionalities, adapters and individual UI components. There are virtually no limits to the use of custom components. In this way, even "applications within the application" can be implemented. All extensions integrate seamlessly into the existing application.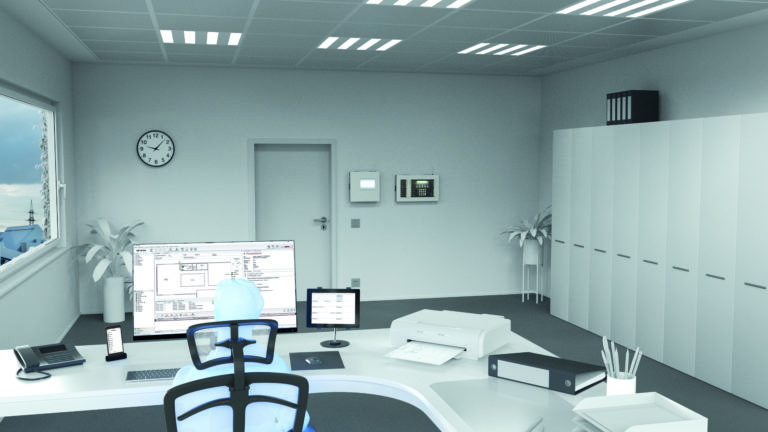 Flexible and scalable
WinGuard is scalable from a single workstation system to an internationally cross-linked control center and can be extended anytime by further servers and clients.
Already the WinGuard Express solution enables cost-efficient monitoring and control of a single site by e.g. linking the access control system with CCTV and/or connecting a fire alarm system with up to 3,000 detectors. In addition, the iOS or Android App can already be used with the Express solution, enabling mobile access to the platform and all connected systems.
Distributed systems for installations with several or numerous workstations profit in particular from central documentation and comprehensive reporting possibilities. In addition, the multiple redundancy as well as the high availability of the system lead to a high level of reliability in larger installations. This is particularly important in critical environments, e.g. in finance, data centers, correctional facilities or other highly sensitive areas.
Customizable System
With individually adapted modules for specific functionalities, workflows or industries, WinGuard meets even very special requirements.
Modular & Scalable
With individual function modules as well as the possibility to freely extend the overall system, WinGuard always offers the perfect solution for different requirements.
Encryption
In addition to network communication secured by TLS, the database can also be encrypted with AES according to the highest security standards.
Notifications
WinGuard Event Routing offers a dynamic forwarding of event messages to workstations and mobile devices. Furthermore, it is also possible to send text messages and voice recordings.
Video Manager
Using the WinGuard Video Manager, analogue and digital video systems can be controlled. Image displays, PTZ control and archive access are realised in a unified way, provided that the connected systems offer these functions
Open Architecture
Subsystems are connected to WinGuard via adapters. Besides the support of open standards, WinGuard offers more than 500 manufacturer-specific adapter modules.
CAD Support
The WinGuard CAD Support allows the import or linkage of CAD graphics, among others in DWG, DXF and DGN format. Using CAD Support plus, the automatic transfer of detector positions is also possible.
Mobile Devices
Web access and apps (iOS and Android) provide clear access to all events and operations of the control centre at any time
Video Archive
The Video Archive offers the possibility to create bookmarks and store sequences in WinGuard, independent of the video system. The bookmarks or sequences can be linked to events and additional notes can be attached.
Security efficient and effective
Transform the process of individual enterprise security into an easy and secure process.
User Administration
WinGuard offers a comprehensive user and rights management. As an option, an existing Active Directory (LDAP) can be applied for user administration.
Locations
Distributed locations can be linked via location servers to ensure an independent operation of the locations in case of a possible breakdown of the central server or the network.
Geo Information
Integration of geographic information systems. The positions and states of datapoints can be dynamically visualised on maps and integrated in event processing.
Facility Manager
The WinGuard Facility Manager enables collection of maintenance dates and inspection intervals for unconnected systems such as e.g. fire extinguishers, sprinkler systems, air conditioning, etc.
Redundancy
Using several WinGuard Standby Servers, the complete database of the main system is continuously kept on one or more other computers. This ensures the system availability and stability at any time.
Segmentation
Using segmentation, the database of network systems can be divided into segments in order to limit access to customer or location data.
Configuration
With the integrated Graphic and Text Editor, creation and editing of overview and event graphics as well as of workflows is possible. The user adapter can be individually adapted via user layouts and profiles.
Scheduler
The Scheduler module provides calendars, time schedules, a dead man's handle function, automatic actions as well as control operations (scheduled and monitored system controls) in WinGuard.
YEARS of experience in security and building management.
PROJECTS realized in different industries.
ADAPTERS to different systems are available in WinGuard.
DATAPOINTS - WinGuard visualizes and controls millions of sensors worldwide.
COUNTRIES - WinGuard is used in more than 70 countries worldwide.
LANGUAGES - WinGuard is available in more than 20 languages.
The WinGuard License Model
The WinGuard license model includes four different basic systems which can be extended by optional modules (function or adapter modules), either directly at purchase or at a later point in time.
All detector groups, cameras, intercom stations, etc. are uniformly managed as datapoints in WinGuard. Datapoints each require one (e.g. fire and intrusion detectors, lighting, monitors) or several datapoint unit licenses (e.g. doors, cameras, call stations). A function for the automatic projection of datapoints simplifies project planning. The more extensive an installation is, the more datapoint units are required for the connection to WinGuard.